Catalyst. Convener. Champion.
The Alameda Chamber of Commerce supports a thriving business community as:
A catalyst for business growth
A convener of leaders and influencers
A champion for a stronger community
RE-OPENING:
Return to Business Workbook
to help you get back to business following the coronoavirus pandemic
NEW eGift Card
Keeping Local Dollars Local
Introducing the new Visit & Shop Alameda eGift Card
FROM MADLEN
Be Kind and Do Good
A message from the Alameda Chamber of Commerce CEO
On 12/10, learn what every employer needs to know about California employment law.
On January 28, 2021, we'll be hosting the Second Annual Business Excellence Awards. We are now accepting nominations for unsung community heroes through 12/12.
Learn more about these and other important topics
Calls for Nominations: 2021 Business Excellence Awards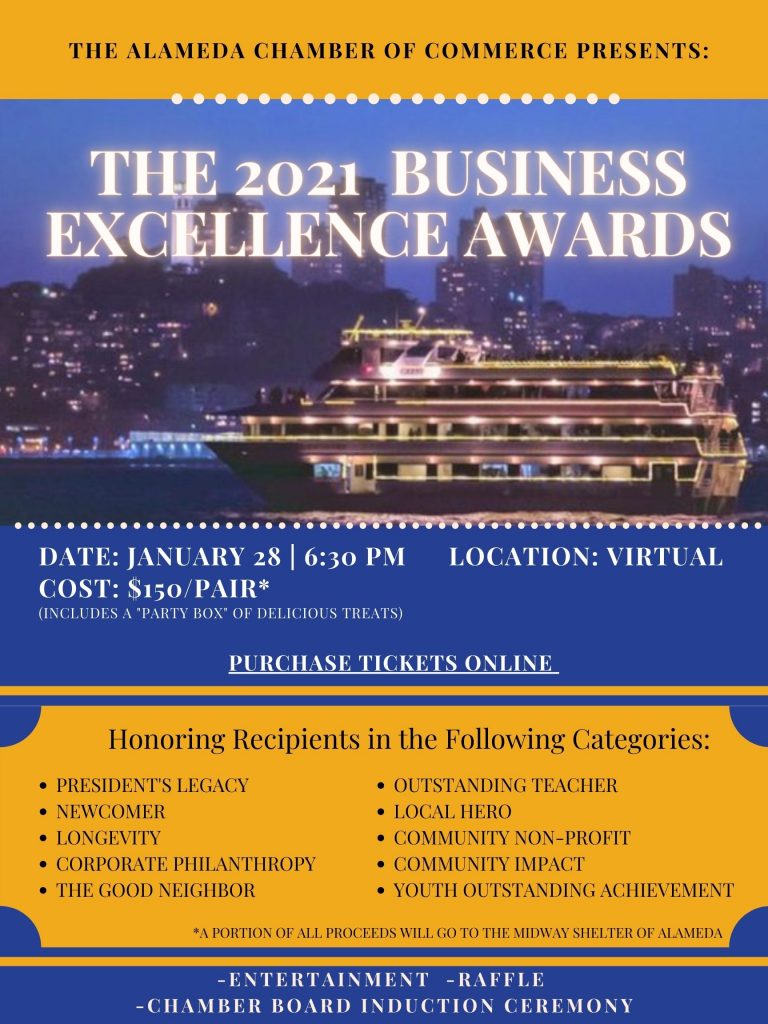 The Business Excellence Awards will be held 1/28/2021. The Chamber is currently accepting nominations for "Unsung Heroes" in the following categories through 12/12/2020. Please email Madlen@alamedachamber.com with your nominations in these categories:
Newcomer Award: awarded to a new member of our community who has given back in a meaningful way
Corporate Philanthropy Award (COVID-oriented): given to a company that exemplifies a philanthropic spirit and mission
The Good Neighbor Award (COVID-oriented): awarded to someone who has made an extraordinary contribution to bringing our community together
Outstanding Teacher Award: bestowed upon a teacher who has made a remarkable impact in and out of the classroom
Local Hero Award (COVID business philanthropy): awarded to a first responder or front-line worker who has exemplified heroism
Community Non-profit Award (Arts & Culture): given to a non-profit for extraordinary contributions to the community
Community Impact Award: Bestowed upon a company or individual whose work has improved the quality of life for those in Alameda and beyond
Youth Outstanding Achievement Award: given to an outstanding young person who has made significant contributions to the community
Advertise Your Business Here

Your business could be featured here, and catch the eyes of all visitors to the Alameda Chamber of Commerce website. Learn more here or contact Madlen Saddik for more information.