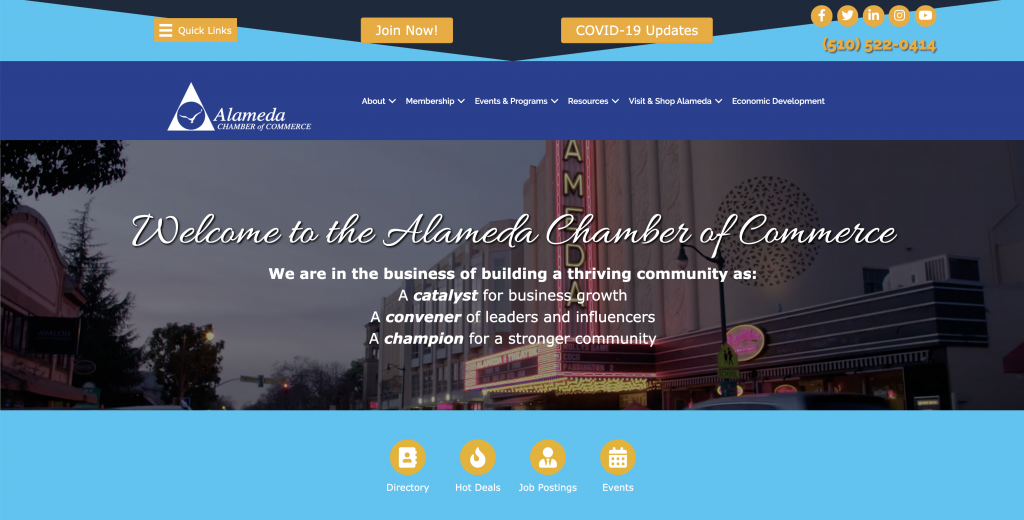 The Alameda Chamber of Commerce Launches New Website
Alameda, CA – The Alameda Chamber of Commerce invites visitors to explore its new website (alamedachamber.com). The new website offers a more valuable, user-friendly experience with improved navigation, design, and functionality including community resources and business growth information.
The goal of the redesign was to focus on making it easier for community members to learn and locate valuable information about business growth solutions provided by the Chamber, stay up to date on events, and seek out educational opportunities for their particular needs and industry.
Created with the user experience in mind, the site includes many new features to help users quickly and easily navigate the site to find the resources they need. It is a fully responsive design for laptop and mobile experiences.
New features include:
Quick links: to easy business solutions
COVID-19 updates: to keep the community informed of the most up-to-date rules and regulations
Blog: articles providing best practices and tips for businesses
Join Now! button: for easy online member application
Events calendar: for information about upcoming community and Chamber events
In addition to these features, the new website highlights the Alameda Chamber of Commerce's mission as the preeminent organization behind building and supporting a thriving economy for Alameda.
Madlen Saddik, President & CEO of the Alameda Chamber of Commerce said, "We wanted to create a website that focuses on our mission and vision as it applies to the growth of the entire community. The Chamber is evolving. We are not your grandparent's chamber. We are bringing new voices to the table and helping businesses of all kinds find the resources they need to be successful.
The chamber helps act as an advocate for the community in issues of economic growth, an educator for business owners and employees, and a bullhorn for business professionals who want their message heard. This new website more clearly reflects the benefits we provide to the community and acts as a resource for those interested in professional development and business growth.
Many visitors to the website will be surprised at the resources we have to offer."
For more information on the Alameda Chamber of Commerce or to view the new site please visit www.alamedachamber.com.
The Alameda Chamber of Commerce has been a champion for businesses of all sizes and backgrounds, convener of leaders and influencers dedicated to innovative solutions, and a catalyst positioned to spark economic and business growth. For over 90 years, it has been the voice of the business community, representing and advocating on behalf of businesses in Alameda.