30 Ways to Make People Love You on Social Media
Have you ever noticed just how many bland posters there are out there on social media?
They post only about themselves and not even interesting things about themselves. They're not building any sizeable fan base because that kind of posting is not allowing people to know, like, and trust them.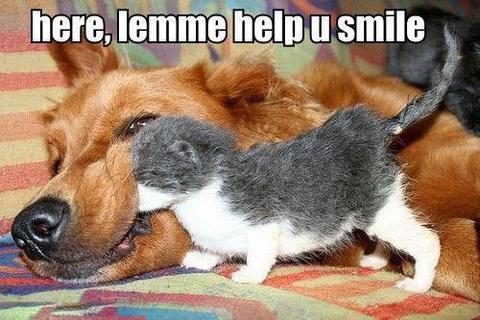 Their social media efforts are wasted and since we don't want yours to be, we put together a list of things to post about that will make people see just how amazing you are. When they do, they'll want to do business with you.
If your social media accounts have stagnated, it's time to jumpstart them with these ideas.
Don't Be a Bore
Before we get into the exciting post ideas that will help you shine, let's talk about the one main thing you want to avoid on social–boring your audience. No one likes a person/business/social media account that always talks about themselves.
To keep that from happening, aim for about 80% of your posts being about things that are valuable to your audience but not about you. The other 20% can be about your business but those posts should still be of interest to your audience. Figure out what your ideal demographic cares about and communicate those aspects of your business.
Also, think about what makes a good conversationalist in person and be that person online. That means you engage people in conversation topics on what they want to talk about. Ask their opinions on things that interest them as well as directions, products, or service offerings about your business.
So what things should you be talking about to make them know like and trust you?
Take a look at these post topics:
Post Topics That Will Make Your Audience Love You and Buy More
The following posts are engagement drivers. Just remember if you ask questions, you should be willing to answer them too and make sure you comment on the answers people make to increase conversation.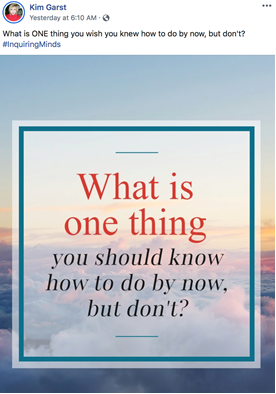 Then and now posts. Feature posts about how things used to be and how they are now. Make a collage of funny comparisons like sat phones in the '80s and cell phones today.
This or that posts. Do you like this kind of thing or that? For instance, "Spring or Fall?"
Favorite recipes.
Favorite places in Alameda to watch the sunset. Then post a beautiful sunset and invite others to do the same.
"Did you know?" posts about random things around The Island.
Favorite emojis.
Describe what you do in a GIF.
Pictures of you from years ago. The funnier, the better. Think back to school pics.
Questions people can answer easily. Social media provides a nice distraction.
Use "tag a friend" posts for people who love whatever you're posting about. For instance, "Tag a friend who loves pizza more than sleep."
Take a picture of your home office or workspace and ask others to post theirs.
Comment on pop-culture topics of conversation like TV shows or concerts. Avoid politics and religion.
Fill in the blank question. For instance, "Life without coffee is _____."
Share quotes from other people about what you sell. For instance, if you sell flowers, share quotes from famous people about flowers and create image memes out of them.
Post something big going on in Alameda like hours for trick or treat or the latest social distancing protocols. Your audience is searching for this information. Delivering it can mean you become an even bigger resource for them.
Share kitty, puppy, or baby videos. When you need to bring out the powerful social media connectors, use hedgehogs, sloths or goats. Those animals rule the internet.
But it can't all be fun and games, right?
Didn't we say you get to talk about your business 20% of the time? So, what do you post then? You'll still want to offer engaging and valuable information for your ideal audience. Here are some suggestions:
Behind-the-scenes posts of how your products are made or services are rendered.
How-to videos. You can create videos on how to use your products. Don't forget to create a few on lesser-known and creative ways to use them. For instance, some products have cult followings that do some creative things with the products. Think of all the uses for duct tape or markers. If you have a product like that, don't forget to cover these creative ideas as well.
Answer your most frequently asked questions in written posts, video, and memes. Apply very important information about what you do, even if in a humorous way.
Share little-known trivia about your business.
Introduce or spotlight an employee but take care to share some really interesting points about them. Don't just talk about where they're from and how much they like their job and customers. Everyone does that and it doesn't help anyone to connect.
Share your why. Why do you do what you do? Be specific.
Share your favorite charity and why it's so special to you. Team up to give part of your proceeds to them on a certain day.
Post your most popular item or service and indicate it's your number one seller. Sometimes people just need help making a decision and seeing that "endorsement" might sway them.
Tell people the major considerations in buying what you sell (aka things to keep in mind during the buying process). This way you can shape the "correct" buying process to your specialties.
Interview a customer or business partner. Don't frame the conversation around how amazing you are. Focus on the wonderful things they are doing. And guess what? You're helping them achieve those things.
Hold big reveals. Maybe it's a new product or new packaging but building up a reveal can fun. You can live stream the event.
Tell your story and don't skimp on the struggles. People identify with hard times and want to hear that it turned out well despite the tough times.
Sales, deals, and discounts. Launch flash sales that are only good for the social media viewing audience. Use a special codeword that you share online.
Share when others mention you and jump into conversations when appropriate.
There you have it. 30 posts ideas for ways to get people to know, like, and trust your business more.
But these ideas aren't enough.
You need to make sure that once they're sharing and conversing, that you're there to be a part of the conversation. Never post and run. Consider your social media business profiles as an "open house" you're hosting virtually. You want people to come in and stay awhile and they're not going to do that if the host is nowhere to be found.