Why Alameda's Economic Forecast is the Must-Attend Event of the Business Year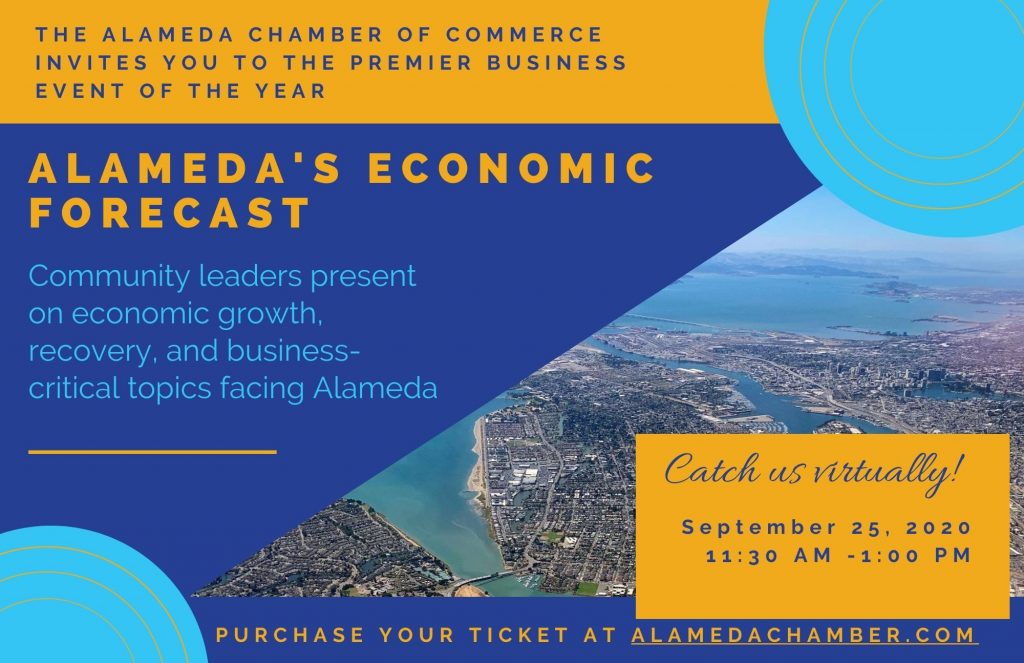 I get asked on a daily basis what I think the future of business in Alameda and our area will be. When will things reopen and what will the total impact of COVID be when it finally passes?
I wish I had the answers but I can only see what is happening right now.
But most business professionals need more as we move toward 2021. They want to begin planning for next year and for the recovery.
That's why we retooled our fall signature event bringing in public and private sector leaders to answer the all-important questions of what's next and what we can expect. Our newly envisioned event, Alameda's Economic Forecast, will provide critical insights that will help business people plan for the near future and beyond.
While I can't make this chamber event mandatory for every business owner, I would if I could. I believe that strongly in it and the information we're sharing. Nowhere else can you hear the mayor, a state senator, the city manager, and an economic development director share their insights along with developers who are managing large-scale projects here in Alameda.
It's an hour and a half that could be one of your best business planning tools for the year. Tickets are $55 and the event is virtual, that means no bad seats!
Why You Should Attend Alameda's Economic Forecast
There are a few more benefits to a virtual event like this one:
You can replay the presentations of your choosing, no worries about taking notes or missing something important.
You can ask questions ahead of time so that we can help ensure the presenters know what's on your mind. (Send them to connect@alamedachamber dot com.)
You can replay the presentation at your convenience if you're a ticket holder. If something comes up in your day, you won't miss out.
You'll have the information first to plan and strategize ahead of your competitors.
You'll get information that is specific to our area, not national news or predictions.
This is an unbelievable opportunity to hear from some of our region's brightest leaders in terms of the economy, housing, and jobs. Don't miss it.
Join us on September 25th from 11:00 a.m. – 1 p.m for this very special chamber event. Buy tickets here.