How to Hook a Customer on Instagram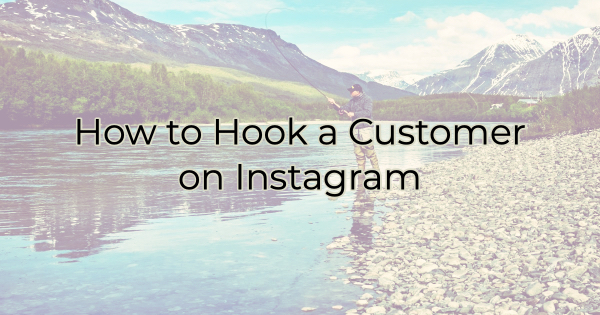 Fly fishing is fascinating to watch. It involves a series of movements that lure a fish into biting. It's more about the rhythm than the bait. "Landing" a loyal customer is much the same.
You can easily get someone to buy from you with a discounted price or crazy offer. But that's not sustainable. In the long run, you want that customer to keep returning to buy from you, or at the very least, refer you to others.
That takes a certain finesse.
And like fly fishing, it requires an ability to put it all together in a fluid motion.
While looking for customers on Instagram is just one component of a marketing strategy, it can be an important one if you're trying to increase visibility, especially among those under 40.
3 Easy Ways to Hook a Customer on Insta
One of the hottest social media platforms for the under 40 group is Instagram. Even if your business doesn't photograph well, you can still use it to hook customers. You just need to put together a fluid effort of engagement.
Keep in mind, "hooking" a customer is not just about that single purchase. It's keeping them engaged and on the line as a loyal purchaser (or reviewer/referrer). You can do that by:
Anticipating Needs
Your customers need you, don't they? There should be a reason why your business helps them better than anyone else in Alameda.
But before you simply tell them how you help, make sure you are aligned to anticipate their needs and are in a place where they can begin to learn more about your offerings. For instance, if you run a dog training school, it would make sense to follow people in Alameda who post about their dogs, particularly puppies. Even if they aren't in the market at that moment for a dog trainer, if they follow you back, your business posts will now be in their feed. You've planted the seed that you can help, even if that puppy hasn't eaten its first pair of heels yet.
Being Helpful
Watch those keywords and not just the ones that directly mention your business or what you do. Watch hashtags that mention Alameda or other points of interest near here as well. For example, let's say someone posts about Crown Memorial State Beach. You could comment on their picture and add your own suggestion such as "I love that beach. Have you been to Shoreline too?"
That person is going to appreciate your advice. At the very minimum, they will look at your profile to see who you are. Hopefully, they'll engage you in conversation. But they may just stop into your business instead.
Making Them Feel Special
Keep an eye out for #Alameda and amazing pictures of our area. Then ask the poster if you can use them in a newsletter, on your website, or as a featured picture on social media (giving them credit, of course). When someone is selected for an "honor" like that, they feel really good that you loved their image enough to use it. 
Even if they don't give you permission to use it, you still made them feel special. At the very least, they will look at your business profile and learn more about you.
One of the things that makes it so easy to connect on Instagram is that most people want to be told their "baby" is pretty. In this case, a compliment on a post can go a long way to establishing a connection between what they post, what they need, and what your business provides. Think about potential connections and you'll be on your way to establishing a lasting customer base.