How Will My Business Survive Another Lockdown?
The next couple of months will be telling ones. With a state-wide curfew going into effect, this article will give you some advice for overcoming potential slower business times.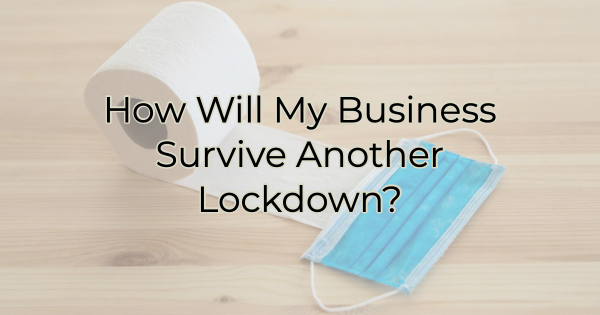 Ditch Your Space
This advice may not make landlords happy, but there are some businesses that just don't require storefronts anymore. One way to survive tough times is to eliminate your biggest expenses, and for most, rent (or mortgage on a building) ranks right up there at the top of that list.
Is your business the type that can function without a physical space? What are you giving up if you do that?
A survey by website provider BlueHost in August 2020 found that 48% of business owners surveyed said they saw no reason for a physical space in the future.
Even if you have slightly less business from lack of foot traffic, consider what it's costing you to run the physical space.
You can even consult with a tax adviser to see if there are tax benefits or deductions you can be taking if you move your business to a spot in your home.
Boost Social and Online
Whether you're giving up your physical space or not, you have to hit social media hard right now if you want to stay in business. Keep in mind that while some people want to buy local this holiday, sometimes going to downtown Alameda isn't possible with personal schedules (or at all if businesses are shut down).
Those people may look for local shops online. If they do, what online purchase options will they find with your business?
Don't risk losing business by not taking advantage of online options. For instance, a business (outside of Alameda) announced the temporary physical closing of their storefront and suggested web visitors make an appointment to come to the store.
What is the likelihood of someone who's online deciding to make an appointment to come to a physical location? They are online with credit card in hand. They are in the mood to buy, not make appointments.
You're losing business if you're asking people to make appointments with you.
At the very minimum, you need:
Online purchasing options. You can do this through outside sites (more about that in the next section) or your own online store. Even if you sell services and not products, you should be looking for ways to sell online. That's where people are spending their time these days.
Images of what you sell. The business that wanted potential customers to make an appointment sold handmade jewelry and yet there wasn't a single picture of their products on their site. Missed opportunity. If you sell services, videos and images of your work should be on your website. 
A presence on social media. Build those follower numbers by sharing amazing content. Facebook is cracking down on what they show people in their streams. Check out your stream. How many posts are sponsored posts? It is not uncommon for every fourth post to be sponsored content. You either need money to reach your audience or you need them interacting with you.
Get Out There
If you don't want to take on the hassle of an online store and a WordPress Plug-in (although those are really easy and not as intimidating as you might think) or online commerce software (again, the technology is getting a lot easier to set up than it once was), then you can turn to other sites. You can sell on:
Ebay
Amazon
Etsy
Walmart
Facebook Marketplace
A Facebook page
Facebook groups in Alameda and elsewhere (check the terms of the group first)
Alibaba
Google Express
There are also e-commerce sites for specific types of businesses like Uber Eats, GrubHub, DoorDash, and Slice (pizza) for restaurants; Best Buy and Newegg for tech; and Bonanza and Hollar for fashion. Don't think that online sites are just for physical goods. There are many booking sites for people who offer specific services too from fishing charters to wedding officiants. Listing your services on these sites can help you reach new customers for a small percentage on the sale.
This is a disconcerting time for small business owners, but flexibility is key to staying in business. Cut costs and stay top of mind with customers. You can easily do this online with the many options out there. If you want additional suggestions, you can contact the Alameda Chamber of Commerce.