Reach Last-minute Shoppers with These 4 COVID Precautions
We are only a handful of days away from Christmas. And while it may feel like the holiday season revenue has already been decided with everyone from the post office to mail-order businesses saying there's no way they can meet Christmas deadlines, now is the time that local small businesses can shine. If this holiday season is critical to your organization staying in business, we have a few easy ideas to implement last-minute.
Even with our current restrictions, we have an advantage at this point over distant online stores because customers can still get last-minute gifts, services, or gift certificates from you. You just need to ensure they know you can meet their needs and that means increasing your social media marketing.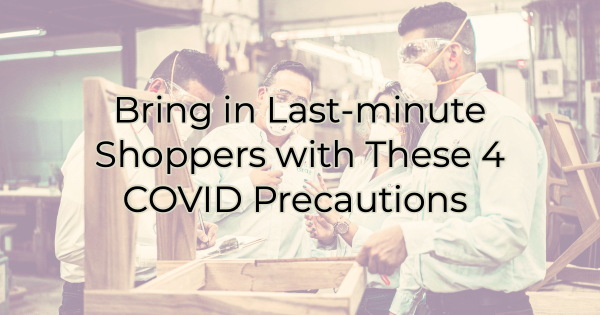 Show Customers Your Precautions
People are frightened by the news and the current condition of things. You need to ensure they know you're offering contactless delivery.
Telling them you're taking precautions is not enough. You need to show them that you are. Customers need to see it with their eyes. Consider creating a quick video of how your delivery person takes extra precautions or walk them through the buying process.
There's something special about seeing precautions versus just reading about them. 
Post Pictures and Options
Take to social media and post individual items you're selling. In the post, include who would love that type of gift. Give the different variations it comes in like sizes or colors. Use hashtags and contact info to buy on every post.
You want to include all the information the potential buyer needs to make a decision. People who want to buy last-minute are often feeling overwhelmed and they just want some of those hard decisions to be made for them.
Also, consider including scenarios like "has your friend had a tough year? Then this is the perfect gift" or "Does your mom need something more this year? Does she really need to hear how much you appreciate her and all the help she gives you? Then try this…."
These ideas will get them thinking, "yes, my mom had done a lot for me. She'll love this." Sales are emotional. Don't cut that out just because you're online.
Understand That Some Things Are Done for Peace of Mind
If you've been to a takeout restaurant recently, they may have brought your food to you in a basket or tray. Then they may have asked you to take it out of the tray thus making it a "contactless" delivery.
This makes people feel better even if your employees are still putting the food in the basket and the customer is still taking the food out of the basket. This action limits the possibility that hands could touch or come close to one another. It does not limit the possibility of something living on the surface. But again, some practices just make people feel safer. It gives them peace of mind that you are taking precautions and speaks to the larger picture. If you're doing this, you're likely taking precautions elsewhere.
Don't overanalyze in these situations. Just aim at making people feel safer even if, technically, there are still some exposures.
Offer Contactless Delivery on Larger Orders
Your business may be facing restictions or limitations but you can still do business by adding delivery to your business. Set a minimum purchase amount for delivery and publish that in a variety of places like social media, your website, and the City's list. 
If you make delivery free, leaving place for a delivery tip or asking if they want to leave a tip, will ensure your driver gets taken care of. The other benefit of offering free delivery (within a specified area) at a minimum purchase amount like $100 is that psychologically people would rather pay for a product than delivery. If someone knows, for instance, that delivery will cost them $5 but if they spend an extra $10 on the product they'll get it for free, they often will spend the extra money on products. 
Also, most people understand these days that tips are very important. But it never hurts to put a line or two in the website ordering page copy how very important tips are to the livelihood of your drivers.
While better days are surely on the horizon, many people are currently very frightened. If you want them to spend money in your business, you have to give them reasons to feel secure with you. These ideas are a start along with following local ordinances and CDC guidelines.