The ROI in Giving Back as a Small Business Owner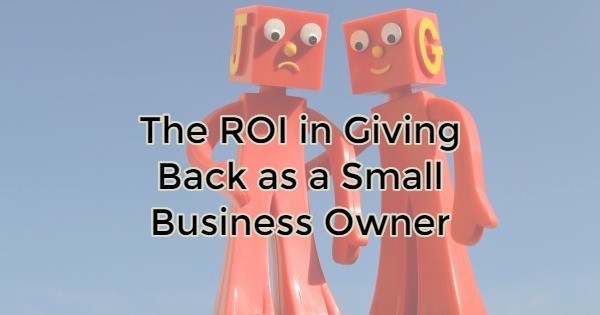 COVID has caused a lot of people to see themselves as part of something larger. And for those of us looking, we're able to find stories of community champions giving back. These people give unselfishly of their time and energy. You can too. You might even be surprised how doing so can be good for your business.
It's okay.
We're friends here. We don't need to be embarrassed to admit that sometimes when you "do good" for someone else, it comes back your way exponentially.
Here's what you can gain by giving back: 
Free Resources Reduce Tire Kickers and Shorten the Sales Cycle
Giving back doesn't mean hours of volunteerism, although it can if you're so inclined; but there is something you're likely already doing for your business that will help you build a loyal audience of customers who turn to you as an expert. Content marketing, and giving away your knowledge for free, increases sales and builds your reputation as a leader in the industry.  
It has another (secret) added benefit. It decreases the number of tire kickers your salespeople are dealing with by helping people "self-qualify." These tire kickers now have easy access to becoming an informed consumer and once they approach you to buy your service or product, they know they want it. An educated buyer shortens your sales cycle and frees up your salespeople as your sales group will then work with more interested buyers and fewer "not sure."   
Mentees Yield Strong Connections
Another way to get involved in your local community that pays off for your business is taking part in a mentor program. There are a number of options from Junior Achievement-type groups to an informal mentorship program through the Chamber. We also have an Emerging Leaders group you could help with to impact the lives of people starting out in their career. You can even contact your local college that has a major in your area of expertise and offer your services as a mentor.  
Millennials have a strong interest in mentorship. Many want to have their own business someday. As a small business owner you have a lot of advice to give. Our Alameda Women Leaders group has partnered with Girls, Inc. to help shape the future of young high school women as well.
But mentees also have a lot to give back to you. Building a relationship with a mentee not only gives you another perspective, it can help you in marketing to a different generation. You also have a younger demographic represented in your network that can help you find interested interns and entry-level employees. 
Presentations Increase Word-of-Mouth Marketing 
There are numerous groups within our community looking for cheap (aka free) speakers for their organizations. These include associations, school groups, PTAs, chambers, and other membership organizations. They are tasked with being a resource for their audience as well and they can't do it alone.  
While most won't allow you to give a sales-y presentation, many do appreciate your knowledge and expertise. Often they will give you a small plug at the end allowing you to give out your contact information. We love working with members as part of our Chamber Academy series or our Good Morning Alameda program. These can be great marketing opportunities for you. You are presented as an industry expert. Plus, you have a roomful of people in a semi-captive situation during your presentation. No other form of marketing can say that.  
If you make a great impression, people will talk about what they learned from you. Word-of-mouth marketing is one of the most powerful tools you have in your marketing arsenal.
A Takeaway for Giving Back
As actor Kevin Spacey said, "If you're lucky enough to do well, it's your responsibility to send the elevator back down." While giving back is the right thing to do, there's also value in it for your business. By giving potential customers the resources they need to make an educated decision, and by helping tomorrow's leaders get started on their dreams, you're making a powerful impression on your future customers.