Spotlight on Our Member: Congratulations to alley & vine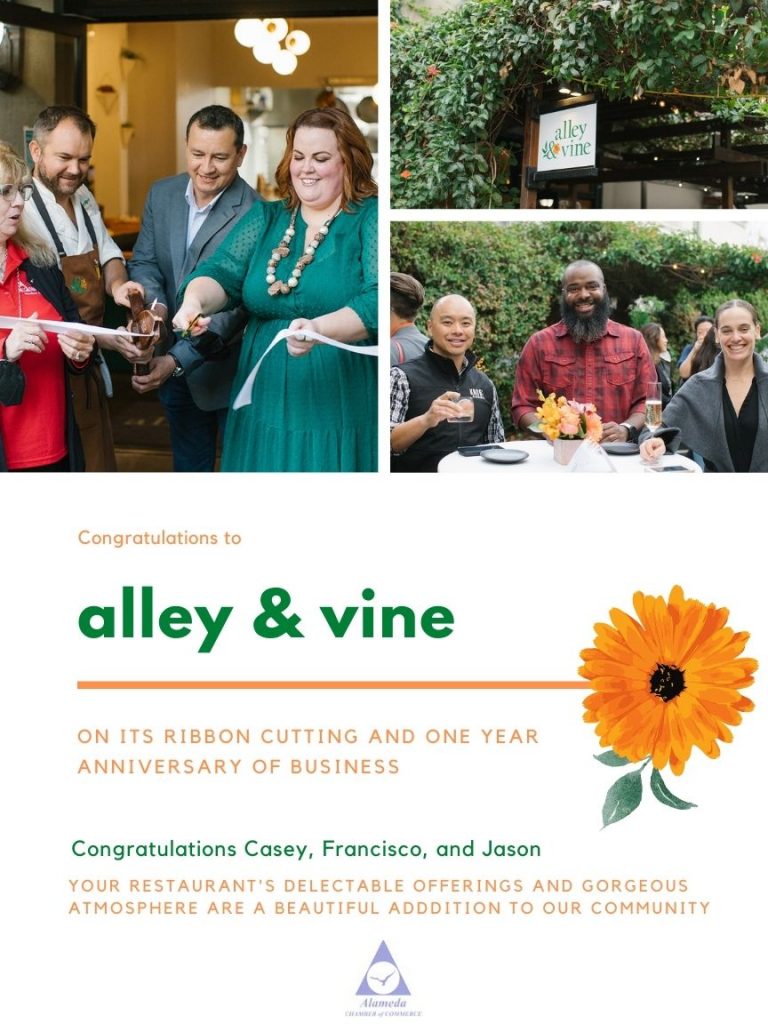 It's been a big first year for alley & vine. They went from opening during a pandemic and building a name for themselves to being named Best New Restaurant by Diablo Magazine as part of their November food issue. Please join us in congratulating these amazing business owners.
In December of 2020, the restauranteurs behind alley & vine took a chance. They opened a restaurant amid a global pandemic. Casey, Francisco, and Jason took an unparalleled risk because they understood there was a place for their vision. With a dream to bring farm-to-table food to Alameda, they didn't want to wait. They knew there was a need now for healthy eating, inventive dishes, and fresh flavors.
Nearly a year later, we gathered for their official ribbon cutting celebrating the beauty and fresh tastes of this restaurant. Attendees at the dinner after the ribbon cutting enjoyed artisan cocktails and an extensive wine list in addition to a special menu.
Get to Know the Owners of alley & vine
Each of the owners brings special expertise to alley & vine. Casey Hunt has worked at Michelin-star restaurants Rubicon and Masa's in San Francisco. She also worked as the Director of Events for Waterbar, which helps her think of every dinner as an experience. She credits her upbringing in Wine Country for her appreciation of fresh food, wine, and a good time.
Francisco Bazo grew up far away from California Wine Country in Lima, Peru but he has spent his life discovering, serving, and creating delicious beverages. He is a Certified Sommelier and is pursuing certificates with the Court of Master Sommeliers and accreditations with the Wine & Spirits Education Trust. Francisco is a judge at San Francisco's International Wine Competition and was previously hosted by Maker's Mark to blend his own cask of whiskey at their distillery and was a judge at the 10th annual StarChefs Somm Slam in New York.
Jason Ryczek grew up in Los Osos, a little seaside town on the Central Coast of California. He is a veteran of the hospitality and restaurant industries but loves new discoveries and techniques. Jason worked in San Diego at Red Pearl Kitchen, and in Los Angeles at One Sunset, Boa Steakhouse, and Artisan House. In San Francisco, Jason spent time at Waterbar, and in 2016 became the executive chef of Farallon. Jason takes it upon himself to learn new techniques and aspects of food and beverage. He has made his own cheese, brewed his own beer, made tinctures and shrubs for innovative cocktails, and harvested his own caviar from live sturgeon.
You'll enjoy your time at alley & vine, feeling like you're among friends on their garden patio. You can even bring your dog.