10 Ways to Get More Business Reviews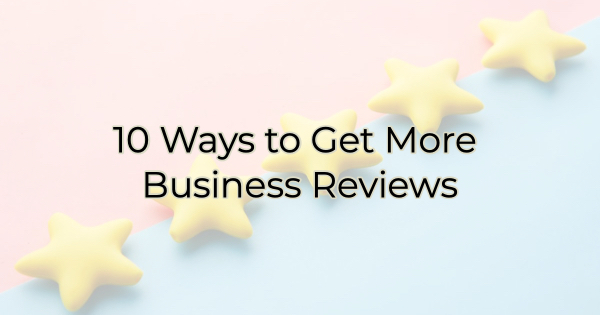 According to an article on SmallBizTrends.com last week, "Small business owners' expectations for better business conditions over the next six months fell by seven points to a net negative 61%. So far expectations for better conditions have worsened every month this year." That's not great news. With rising costs, many businesses are struggling.
When it comes to dealing with these pressures, you have two options to improve revenue: new growth or new marketing efforts. New growth means pursuing new avenues or audiences and expanding. This can be unnerving. New marketing efforts means simply being more deliberate in who you're trying to reach and how you'll get there.
Whether you choose expansion of audience or marketing, you need reviews, and you need them everywhere. Here are a few ways you can motivate your audience to help.
Get More Business Reviews with These Ideas
Put a link on your website and ask for the review.
Use a QR code in your physical business that leads straight to a review site. You can change the sites out periodically so that you get reviews on Facebook, Google, Yelp, etc.
Send a thank you email or postcard to people after they buy and add a request for a review.
When someone pays you a compliment, thank them, and ask them if they could write a review. If they decline, ask if they would mind if you used their words in a testimonial.
Search on social media. People may be talking about you without you realizing. For instance, there may be a local Facebook group where your business is mentioned often. Finding out what these groups are and then listening to what others are saying can give you a lot of great quotes. But don't grab them and stick them on your site. Reach out to the writer and ask if you can use them or if they'd be willing to copy and paste what they said on a specific review site.
Add a star rating to your website that allows visitors to give you a quick rating.
Post reviews openly on your site with a link for people to add their own. Show extreme appreciation for your reviews. If they're visible and openly appreciated, it may influence visitors to leave their own.
Thank people for reviewing you, if possible. Let them know you saw it and you appreciate them. Doing this social media can build momentum and increase your audience's desire to be lauded publicly, which should lead to more reviews.
Reach out to those who left you negative reviews to see what you can do to turn it around. They cared enough to mention the dissatisfaction so see what can be done to turn their negative into a positive.
Provide a discount coupon (or special bonus) to anyone who leaves a review. Don't tell them ahead of time. Make it a nice surprise. This one won't necessarily lead to more reviews but will likely increase sales.
Finally, when you get these wonderful reviews, don't forget to use parts of them on your site as testimonials or make quotes out of them and use them in your marketing collateral and ads.