Is Threads Right for Your Business
If you're on Instagram, the answer is probably. And it's easy to do.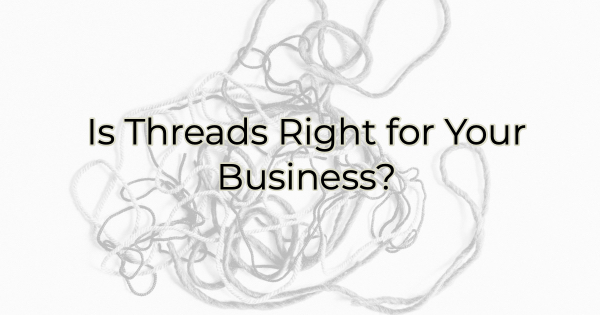 Facebook err…Meta does it again. We have yet another social media platform to consider. Usually when advising businesses on whether they should participate on a social media platform, we ask them who their ideal client is and then we go by demographics. If your ideal customer is on the platform, go for it. If not, skip it—unless you just really enjoy being overextended in your posts and social media attention. But Threads isn't exactly a new platform. Well, it is technically. But if you have Instagram, it feels more like an extension. 
What Is Threads?
Threads is the newest baby of the Meta world, and it's taking aim at Twitter as a text-based platform focusing on conversation, not images. (Although images and videos are allowed.) According to Meta, Threads was developed with features that "promote positive and productive discussions."
When joining, Threads asks if you want to log in with your Instagram username. You have the option of importing info from Instagram or creating a new bio from scratch. Just like Instagram, you can make your profile public or private. (For business, private isn't going to do you much good unless you operate a Speak Easy or something where membership has its privileges.) When you join, you'll be asked if you want to follow the same accounts you follow on Instagram (even if these people haven't signed up yet). 
The app is powered by Instagram, and it uses your Instagram information to personalize ads and other experiences across the two platforms. According to the intro, Meta has plans to create a "fediverse" where people will be able to interact with one another across platforms. (Perhaps that means it will allow the young people on Insta to see what their oldie relatives are doing on Facebook and vice versa.)
As you would expect, you must agree to the terms and privacy policy on your data/data sharing, etc. etc. One important thing to note in the Supplemental Privacy Policy and it's something a lot of people are talking about is the link to the two accounts. The Policy warns, "You may deactivate your Threads profile at any time, but your Threads profile can only be deleted by deleting your Instagram account." 
What's New with Threads?
Like most new platforms, it looks vaguely familiar but with slightly different functionality. After all, people don't usually love big, sweeping changes. Threads adheres to this through a format that looks a lot like Twitter, but it allows for longer posts. Most Twitter users have a 280-character limit (remember the early days of 140 characters?), while Thread users can enjoy 500 characters (what will you do with all of them?) and the ability to upload a five-minute video.
Since Threads resembles Twitter more closely than Insta, it's overcome a frequent criticism of the photo-sharing platform. On Threads, you can easily share links. Yippy! 
To encourage the migration, Threads prompts people to follow the same individuals they do on Insta and then automatically sends a follow request. When you log into your new, linked account you may be surprised how many people have followed you. According to early reports, Threads garnered 10 million users in one day and are now up to 30 million (as of the time of this writing). 
It looks like most users are viewing it as an extension, not a new platform. And that's understandable. Users in Threads can also easily switch to their Instagram profile with a click of the icon.  
Users can manage who can mention or reply to them on the platform. Like Instagram, Thread users can utilize hidden word filters to exclude replies containing specific words from their threads. Managing profiles on Threads incorporates familiar activities such as unfollowing, blocking, restricting, or reporting through the three-dot menu. Additionally, any accounts blocked on Instagram will automatically be blocked on Threads as well. 
Meta plans to enhance Threads by making it compatible with the ActivityPub protocol. They also aim to introduce improved recommendations in feeds, real-time trend tracking, and enhanced search functionality.  
The User Stats
At most recent counts, Instagram boasts 2 billion users while Twitter has only 250 million. If only a fraction of Instagram users sign up, Threads will quickly outpace Twitter. But it remains to be seen if the same communities on Twitter will switch to Threads. After all, Twitter is big in the sports recruiting arena as well as the publishing pitch world. Will they make the switch? 
Threads is accessible on both iOS and Android devices, and users can download the app from the Apple App Store and Google Play Store. 
Will you explore Threads for your business?