5 Reasons You Should Attend Our Next Business After Hours at Launch
In business, networking is one of the keys to success. As the saying goes, "It's not what you know, but who you know."
Here at the Chamber, we offer many opportunities to expand your professional network. And October's Business After Hours event is your chance to see one of our newest, most beautiful apartment communities up close.
This event takes place on Thursday, October 26th, from 5:30 to 7:00 p.m. Launch Alameda is located at 1777 Clement Avenue.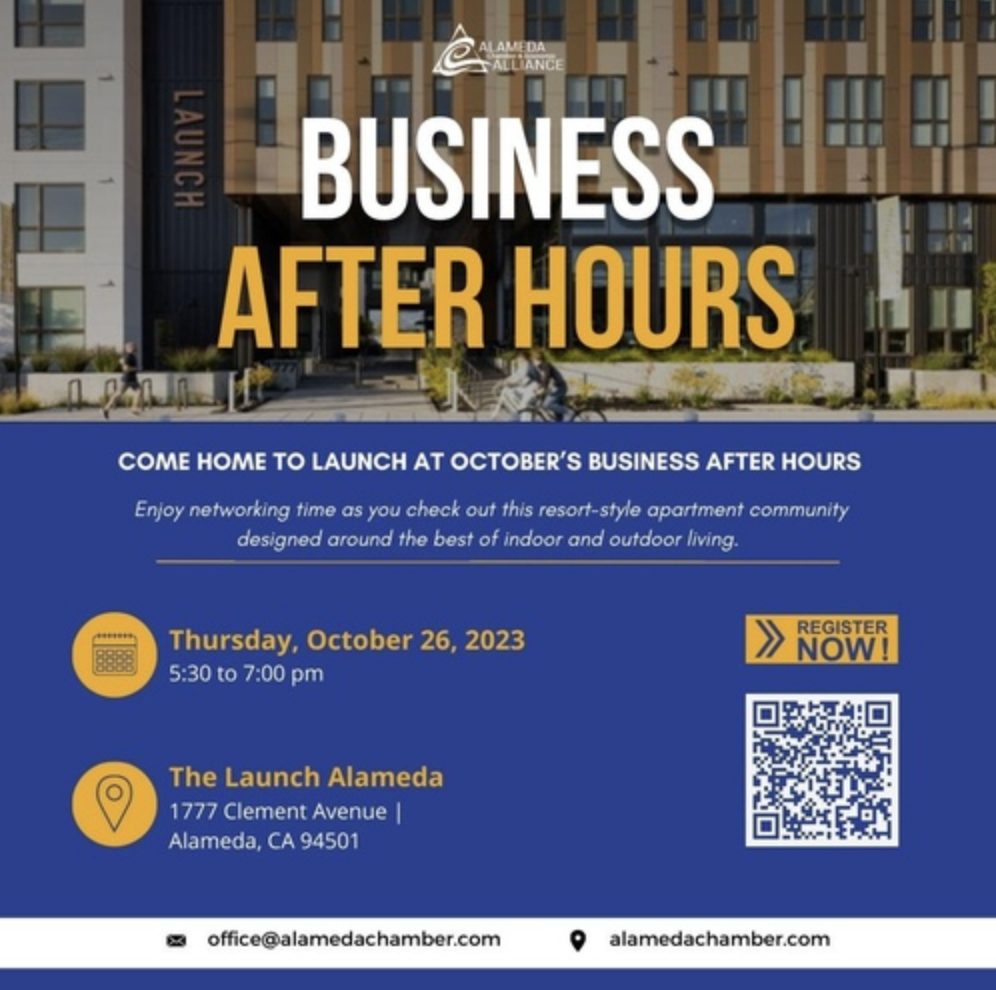 Why You Should Attend Business After Hours at Launch
Here's why you need to be there:
Expand Your Network
Business After Hours events are a fantastic and fun way to expand your professional network. In today's interconnected world, your success depends on the relationships you build. This Alameda Chamber & Economic Alliance event offers a unique setting where you can meet and interact with other professionals in the area. Whether you're a seasoned business expert or just starting your career, these events provide opportunities to connect with people who can help you grow and succeed.
Discover New Opportunities
Launch Alameda, provides the perfect backdrop for discovering new business opportunities. With spacious living areas, direct access to the waterfront, and a thriving community, Launch is a hotbed for innovation and entrepreneurship. Attendees will have the chance to explore this dynamic property and learn about its possibilities for business growth and personal enjoyment. From stunning rooftop decks with panoramic views of Oakland and San Francisco to dynamic social lounges and coworking spaces, there's a lot to discover and discuss. Who knows? You may even find a new place to call home.
Exchange Ideas and Insights
Business After Hours events are not just about exchanging business cards. They're also about sharing ideas and insights. In a relaxed and social setting, you can engage in meaningful conversations with like-minded professionals from diverse fields in Alameda and nearby communities. Additionally, these interactions often lead to fresh perspectives, potential collaborations, and innovative business solutions.
Strengthen Community Ties
In addition to the professional benefits, attending the Alameda Chamber & Economic Alliance event allows you to contribute to the local community. Strengthening ties with businesses and organizations impacts our area's economic development. It's a win-win situation where your networking efforts can help enhance the community where you live and work.
Enjoy a Memorable Evening
Lastly, our Business After Hours events are fun. They offer an opportunity to get a new look at a chamber member. We select them for their enjoyable atmospheres. This event promises a pleasant evening. Unwind, relax, and have a great time while connecting with others. The scenic waterfront location at Launch offers a picturesque setting for networking, complete with breathtaking views.
Business After-Hours Event Details
Seizing networking opportunities like the Alameda Chamber & Economic Alliance's Business After Hours event is a smart move. Whether you're looking to expand your professional network, discover new opportunities, exchange ideas, strengthen community ties, find a new home, or simply enjoy a memorable evening, this event has something to offer every business professional.
Mark your calendars for Thursday, October 26th, from 5:30 to 7:00 p.m. at Launch. Be prepared to elevate your network (i.e., bring business cards!). Explore exciting opportunities with us. Don't miss out on this dynamic event!