10 Ways Nonprofits Can Work with Us to Finish the Year Strong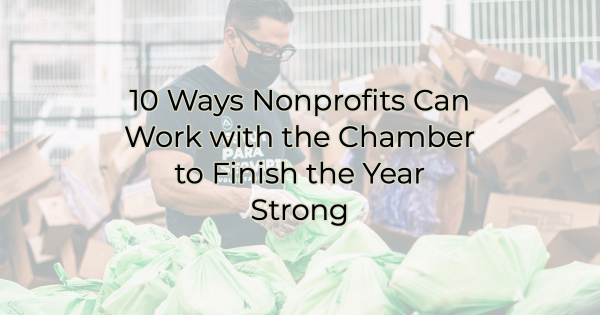 December is a critical time for nonprofits, as it marks the final stretch of the year to achieve fundraising and community impact goals. But what you might not realize is how the Alameda Chamber & Economic Alliance can help your holiday giving campaigns. The chamber can be a valuable resource to support your mission going into December and beyond.
1. Year-End Giving Campaigns with a Twist
While a direct ask is nice, you're one of many requests that a business is receiving this time of year. Instead, create unique year-end giving campaigns that stand out. Emphasize personal stories and impact achieved throughout the year. If you're a member of the Chamber, send in your event flyer or end-of-year ask to be included in our newsletter that reaches thousands in Alameda and beyond every week.
2. Collaborative Fundraisers
Collaborate with local businesses for joint fundraisers. Nonprofits can team up with Chamber member businesses to host events or initiatives that benefit both parties. It's a win-win scenario for the nonprofits and the local economy.
3. Chamber Member Donor Matching
Talk to us about establish a donor matching program for nonprofits. We can help introduce you to the larger employers who might have an existing program to get you on their list. Some companies have volunteer days for employees and are looking for local nonprofits to partner with.
As part of our shop local campaign, we also invite people to "Give Local." That way it's more likely that donated money will stay in our community. Let us know how we can help.
4. Volunteer Appreciation Events
Host a volunteer appreciation event in collaboration with the chamber. Recognize the dedication of your volunteers and express your gratitude. We can assist in helping you promote volunteer opportunities. Through Leadership Alameda, the leadership class adopts a community project. Part of that could impact your nonprofit.
5. Community Impact Showcases
Work with us to organize a community impact showcase event where nonprofits can display their achievements and projects from the year. This can help create awareness and support for their causes. Again, our Leadership Program hosts a nonprofit session day that you could potentially be a part of. We can also assist in the promotion of your events.
6. Holiday-Themed Workshops
Offer workshops or webinars focused on end-of-year fundraising, grant writing, or volunteer management, with support from the chamber's experts and resources. Let us know what you need and we'll make the introductions.
7. Networking Mixers
Attend our networking mixers or other chamber events. There you can connect with local businesses and potential donors. We can facilitate introductions and provide a platform for these connections to flourish. If you're not a member, you can attend an event as a guest and get to know us.
8. Year-End Gratitude Campaigns
Express your gratitude to donors, volunteers, and the community. Create heartfelt thank-you videos, letters, or events to show appreciation and foster strong relationships. Show the story of your successes and how you helped with the challenges in our area.
9. Leverage Chamber Resources
Talk to us about what you need such as marketing support, access to a network of local businesses, and promotional opportunities through chamber channels. We can formulate a few ideas on how we might work together for the better of Alameda.
10. Plan for the Year Ahead
Use December as a time to strategize and set goals for the upcoming year. The chamber can assist you in your sustainable plans for growth and community impact. View our strategic plan is. If your work is in the area of workforce development, affordable housing, transportation, sustainability, or other areas, it's likely your efforts align with some of our initiatives. Partnering may benefit both of us.
December is not just the end of the year; it's also the perfect opportunity for nonprofits to create lasting impacts and strengthen relationships with the community. By implementing these ideas and utilizing the support of the Chamber, you can finish the year strong and pave the way for a successful year ahead. 
Let's make a meaningful difference in Alameda!