The 2023 scholarship application period is closed. Watch this space for information about the 2024 Awards.
The Alameda Chamber Foundation is a 501(c)(3) non-profit subsidiary of the Alameda Chamber & Economic Alliance. It serves to educate the people who live and work in Alameda on the conditions necessary for our businesses and the community to thrive, how business positively impacts our community, and emerging issues and creative solutions that will shape the future. The Foundation provides scholarships and ongoing leadership development, education programs that provide unique opportunities for learning and growth, and solutions to important community problems like homelessness.
The Foundation annually awards exceptional selected graduating seniors in Alameda with scholarships. The idea behind the scholarship program is to help traditionally underrepresented students in the sciences to fund their educational and STEAM (Science, Technology, Engineering, Arts, Math) career goals.
Eligibility and Application Requirements
Applicant must be a graduating high school senior planning to further his or her educational or career goals by attending a two- or four-year college or technical, vocational, or apprenticeship program.
Applicant must demonstrate academic persistence and dedicated service to Alameda.
Applicant must attend high school in Alameda.
Applications received after the application deadline will not be considered. Decisions are released in early May.
No officer, director, manager, or trustee of the Foundation or Chamber, nor any substantial contributor, along with each of their family members, are eligible for the scholarship grants.
Be a U.S. Citizen or legal permanent resident with a valid permanent resident card or passport stamped I-551.
*No GPA Requirement!
To be considered, each students must complete the online application form that includes the following:
Financial Need Explanation.
List of high school activities and years of participation.
List of (outside of school) personal activities.
Essay response to the prompt: What inspires you to pursue a STEAM (Science, Technology, Engineering, Arts, or Math) career and how will your future goals contribute to the local community? The essay should be no more than 500 words.
Selection
A group of volunteer Alameda community members will select Scholarship recipients based on a variety of criteria including academic persistence, community involvement and service, financial need, and career interest. Scholarships will be awarded to students who plan to pursue a degree/career in a STEAM field (Science, Technology, Engineering, Arts, Math). Although the scholarship aims to award funding to minority students who have been traditionally underrepresented in the sciences, all seniors who attend high school in Alameda may apply.
Upon receipt of the scholarship application, Chamber Foundation staff will verify completed applications (applications missing components will not be verified, and thus, not eligible).
After verification, applications will be assigned a number and stripped of identifying markers such as name, address, etc. The Alameda Chamber Foundation community judges will review numbered applications and make recommendations on awards. Judges who know, or can identify, an applicant based on an essay will recuse themselves from deliberations relating to that applicant(s).
All applicants will be notified in writing of the Alameda Chamber Foundation's decision. The Chamber/Chamber Foundation reserves the right to publicize the names and images of scholarship recipients through its website, digital and social media, print publications, and local media.
Disbursement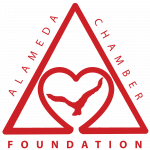 Scholarship checks are sent directly to the recipient to fund the recipient's educational and career goals.
The Foundation hosts a Chamber Scholarship Award Ceremony each year for sponsors, winners and their families.
If you have any questions regarding this scholarship or the application process, please contact the Alameda Chamber Foundation at 510-522-0414 or email communications@alamedachamber.com.