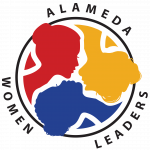 In 2021, we launched the Alameda Women Leaders Group (AWL) to rave reviews.
If you have ever wanted a supportive network of women leaders and businesswomen, joining AWL is perfect for you. We meet quarterly and our meetings will be lively and informative.
At AWL we welcome women from all backgrounds and experience levels. We want to share in the struggles, challenges, and successes of one another. The environment is one of mutual respect and support and we invite everyone to have a "seat at the table."
This is not your average networking group.
At AWL you have the opportunity to:
Exchange ideas and knowledge
Discuss matters affecting women in a supportive, understanding environment
Listen to creative ideas and discover inspiration
Explore collaborative opportunities
Get motivated to do more and be more but also say no
Uncover how others achieve work/life balance
Develop friendships with women in business
Finally, this is your chance to be a part of something from the beginning. The group is just starting, and your input can help shape exactly what it becomes.
Joining this group will not only be a great way to make friends, it's also a big investment in your professional growth.
Become a part of this amazing group. Join us today by emailing madlen@alamedachamber.com