Are you thinking about joining the Alameda Chamber & Economic Alliance but you're just not sure what you get for your money?
There are many reasons to join.
Here, we've highlighted six: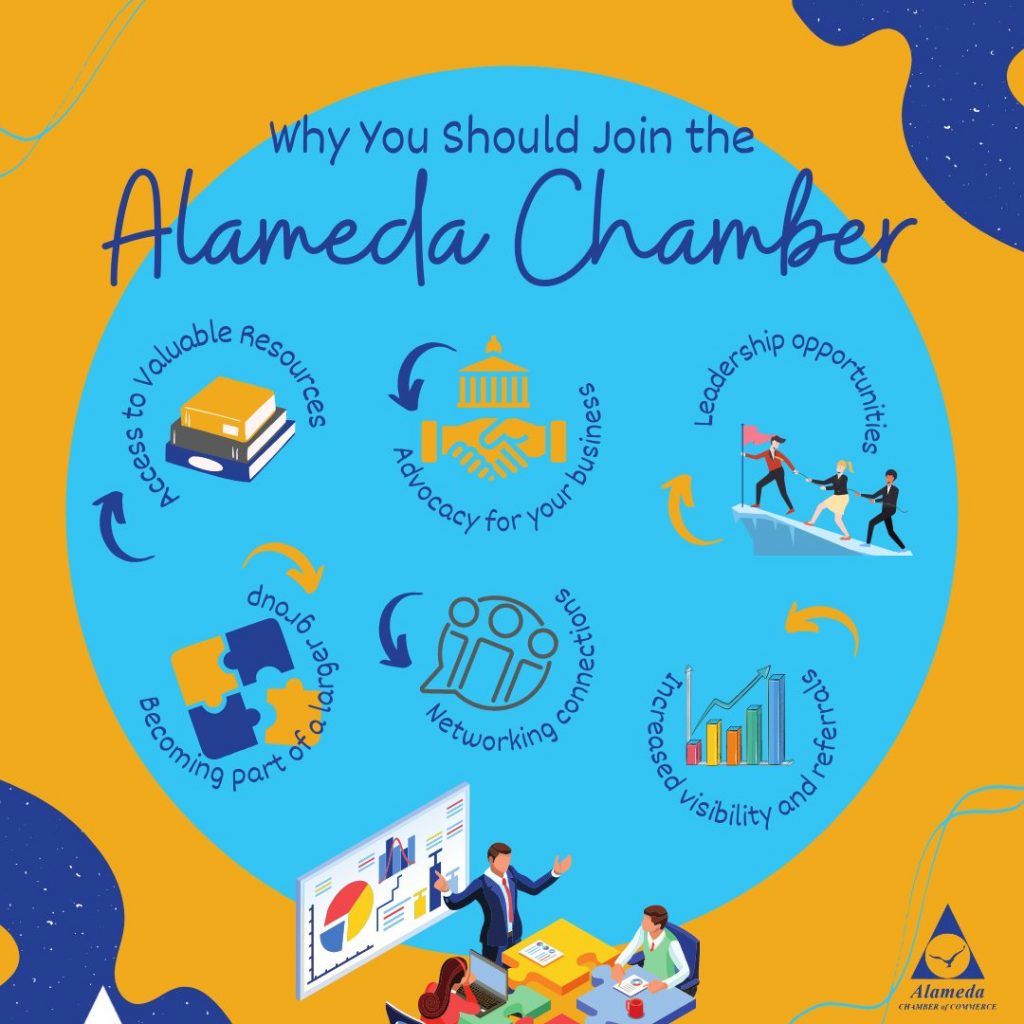 Access to Valuable Business Resources
The Chamber offers tons of valuable business resources that can be enjoyed by you and all of your employees. These include webinars on important business topics, professional development, and trends. We also record these videos so you can watch them on your schedule.
We produce blog posts and articles on a weekly basis. We're also in the process of launching our first business guide aimed at people who want to do business, vacation, or simply enjoy all that our community has to offer. You can have your business listed and featured for additional wide-reaching exposure.
Advocacy for Your Business
The Chamber is the voice of business in our community. We advocate on behalf of businesses daily. Whether you have a legislative concern or need a little help with a zoning question, we are able to leverage our large membership to make things happen for businesses.
We're also busy through our Chamber Foundation to help solve some of the challenges facing our City. We want to ensure Alameda continues to be the type of place people want to visit, work, and live.
Leadership Opportunities
If you want to be a community leader, the Chamber is a great place to start. We have committees and groups within our Chamber focused on important trends and conversations. Join our Women Leaders Group, apply for Leadership Alameda, or be a part of important conversations in our Diversity, Equity, and Inclusion Town Hall.
We also have an Ambassadors Group, Emerging Leaders, and a Board that can really help you get to know the community.
Becoming Part of a Larger Group
When you join the Chamber, your voice becomes part of a larger group, one that is well-respected and heard in our city. We leverage the power of business to ensure every candidate, community leader, and government civil servant understands what's in the best interest of our business community.
During COVID, we helped ensure that the key decision makers knew what businesses needed in Alameda and worked with them to help with things like increased outdoor space.
Networking Connections
We know one of the main reasons people join the Chamber is to meet new people. We help with that on many levels. Not only do we have excellent networking events like Good Morning Alameda and Business After Hours, we also host several signature events each year. Plus, when you join we ask the types of people you are most interested in meeting and we help facilitate those introductions.
Increased Visibility and Referrals
Who you know is important but you also want more customers. The Chamber can help with that too. We spotlight new members, make introductions, and work with you to ensure your business is seen by your target audience. The Chamber is always quick to refer members. Whether it's member-to-member or answering a visitor's inquiry, our members come first and we're always happy to make introductions.
And this is only the beginning!
There are many other reasons to join and we'd love to talk to you about them. Contact us today and we'll map out a way for you to reach your business goals with the help of the Chamber.