WHAT IS LEADERSHIP ALAMEDA?                                                             
Leadership Alameda is designed to introduce an annual class of future leaders to major facets of the community through an informative and interactive, professional development program.
Leadership Alameda's participants partake in educational sessions, tours and conversations with community leaders in various industries.
It is an ideal program for people in all industries, at all career levels, and from all backgrounds. Leadership Alameda recruits lifelong learners with an interest in becoming an empowered leader on a grassroots level by covering major areas important to the Alameda community.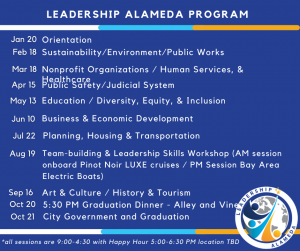 These areas include:
government affairs
education
law enforcement/first response healthcare, wellness, and aging
business & economic development
diversity and inclusion
the arts, leisure, and tourism
the environment
nonprofit organizations
transportation and housing
Each month participants take a deep dive into one of these areas so that they may see and experience their community anew. The hands-on learning provides exposure to each area and the leaders shaping these programs.
The participants will also create a class project to help improve Alameda and further their interaction with one another. Working with organizers, the class project will be focused on "giving back" in some way and will be decided annually by each class.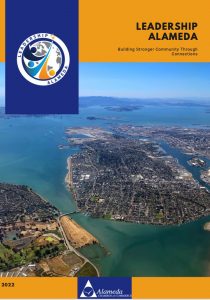 Program Goals:
Create and expand a base of knowledgeable citizens and leaders – building a "pipeline" of informed individuals for civic and community engagement.

Prompt broader citizen involvement by providing a forum for educated debate and an opportunity for participants to strengthen their leadership skills.

Facilitate meetings with key community leaders to learn about their programs and services.

Uncover the critical issues facing our community.

Provide networking opportunities with key community leaders, class members, and graduates of the Leadership Alameda program.
Who Should Consider Applying to Leadership Alameda?
People of all ages with an interest in business-leadership development or community leadership are encouraged to apply. We're looking for individuals from various backgrounds who want to be an advocate for the business community.
Leadership Alameda is an excellent resource for professional development.
Applications Are Now Closed
The 2022 Leadership Alameda class has been chosen and is currently in session. The new class will begin in January 2023. Applications will open at the end of September. Watch this space for additional details if you are interested in being a part of a future class. In the meantime, download the Leadership Alameda Packet .
For more information, contact Madlen Saddik at madlen@alamedachamber or 510-522-0414.