Member Benefits and Packages
The Chamber offers an array of events designed to get the community engaged and help address the needs of business. We have programs, events, and opportunities focused on providing business exposure, education, and networking.
All members receive the following benefits:
Business referrals·

Business advocacy·

Complimentary learning opportunities/webinars/educational events·

Networking·

Ribbon cuttings and anniversary celebrations

Access to Chamber mobile app

Access to the Member Information Center site·

Member savings/deals·

Standard business listing in Chamber Directory under one category·

Discounts on Certificates of Origin ($35 for members, $75 for nonmembers)

Easy payment options of annual or monthly payments.·

Community event listings in calendar for organization ·

Subscriptions to event alerts ·

Basic listing of name, contact info, and website in Destination Alameda (print and online versions) publishing fall 2022·

Volunteer leadership opportunities on any of our committees including:
The Ambassador Program

Leadership Alameda Program

Diversity, Equity, & Inclusion Town Hall

Government Relationship Economic Development Committee

Alameda Women Leaders

Maritime Committee

Events & Fundraisers Committee

Alameda Coalition for Personal Care Services

Alameda Restaurant & Bar Coalition

The Emerging Leaders Group
Plus, these benefits apply to all employees of the member business.
Our Chamber membership tiers are based on business goals and desired investment, not the number of employees.
For more details of our tiers and benefits, please request a copy of our Tier Membership Packet or view the chart below.
This is an ideal time to join the Chamber. Our collective voice can help amplify yours, giving you the platform and connections you need in order for your business to thrive.
**If you are a nonprofit in Alameda with fewer than 5 staff members you may qualify for nonprofit pricing. Contact us for details.
Ready to join now?
Start your easy application for membership online. It takes only a few minutes to be going on the path to business success.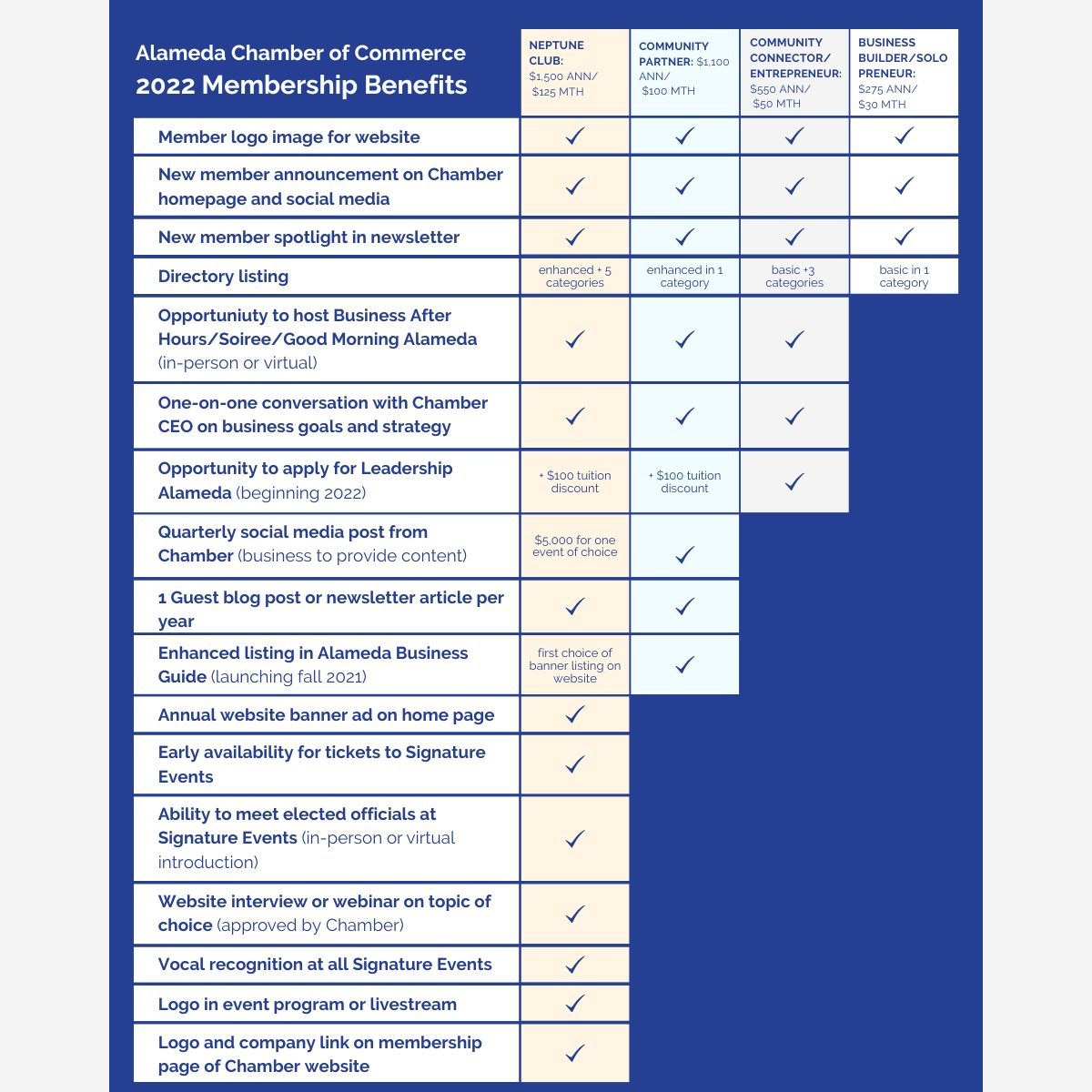 Ready to find out more?
Drop us a line today and we'll work with you to find the ideal package for your business goals.
Membership in the Chamber is open to any individual, firm, association, corporation, partnership, trust estate, or other business entity, of good standing, wishing to assist in the promotion of the purpose and objectives of the Chamber. In accordance with the Chamber's Bylaws, Article II, Section 1, the Board has established criteria in which applicants must meet in order to be granted or maintain membership in the Chamber.
To qualify for membership within the Chamber, an applicant must:
1. Complete a membership application,
2. Pay the appropriate membership dues,
3. Support the mission, goals, and objectives of the Chamber,
4. Agree to abide by the Chamber's Bylaws, rules, procedures, and decisions of duly constituted committees of the Board.
Applicants and/or Members may be subject to application denial, discipline, or termination of membership to the extent permitted by these Bylaws, if not acting in the best interest of the Chamber