Alameda Chamber & Economic Alliance Objectives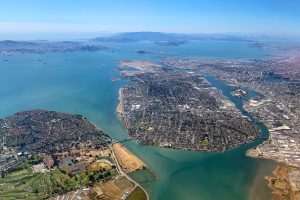 We are the voice of the business community and are here to represent and advocate on behalf of businesses in Alameda. Since our incorporation more than 90 years ago, the Alameda Chamber & Economic Alliance has played these roles and many others.
We are in the business of building a thriving community as:
A catalyst for business growth. With an eye on innovation and a focus on the future, the chamber provides easy access to business resources, information, and training to support the growth of businesses and their employees.
A convener of leaders and influencers bringing together diverse voices through networking events and community meetings. The chamber is a non-partisan, pro-business organization that is uniquely positioned to host conversations that will improve our community and help everyone grow.
A champion for a stronger community. The Chamber identifies strategic partnerships for business retention and growth, workforce development, sponsorship, and leadership development within the community.  The Chamber's reputation as a business leader is a highly-sought-after endorsement.
Join us in our mission as a leading champion to advance entrepreneurialism and economic vitality and prosperity for the City of Alameda.
You are invited to become part of our organization and help promote business in Alameda.
Alameda Chamber & Economic Alliance's Strategic Plan
The Alameda Chamber & Economic Alliance is the preeminent organization behind the building and supporting of a thriving economy for Alameda.
We are a champion for businesses of all sizes and backgrounds, convener of leaders and influencers dedicated to innovative solutions, and a catalyst positioned to spark economic and business growth.
Alameda Chamber & Economic Alliance's Vision
To create a vibrant, diverse community by championing Alameda business, convening leaders to create educational opportunities, advocating for growth, and acting as a catalyst for change.
Alameda Chamber & Economic Alliance's Values
FOCUS – The Alameda Chamber & Economic Alliance supports each of our members as individuals, basing assistance on their specific needs rather than taking a one-size-fits-all approach.
CONNECTION – We connect people, community, resources, and commerce through meaningful networking events and functioning committees based on the needs of Alameda.
COMMUNICATION – We help make your business presence known by getting your messaging out into the community through our newsletter and social media.
COLLABORATION – The Alameda Chamber & Economic Alliance is most successful when its members thrive. We are committed to the prosperity of each member business and the economic community as a whole.
SERVE AND GIVE - The Chamber exists to serve our members in all aspects of their businesses and provide them with the resources they need to succeed. When businesses succeed, our community thrives.
Want to know more? Contact Madlen Saddik at 510-522-0414 or connect@alamedachamber.com.
What is a Chamber of Commerce?
A chamber of commerce is an organization of businesses seeking to further their collective interests while advancing their community, region, state, or nation. Business owners in towns, cities, and other territories voluntarily form these local societies/networks to advocate on behalf of the community at large, economic prosperity and business interests. Chambers have existed in the US for more than two centuries, with many having been established before the jurisdictions they represent.
Chamber missions vary, but they all tend to focus to some degree on five primary goals:
Building communities (regions/states/nations) to which residents, visitors, and investors are attracted
Promoting those communities
Striving to ensure future prosperity via a pro-business climate
Representing the unified voice of the employer community
Reducing transactional friction through well-functioning networks
Chambers have other features in common. Most are led by private-sector employers, self-funded, organized around boards/committees of volunteers, and are independent. They share a common ambition for sustained prosperity of their community/region, built on thriving employers.