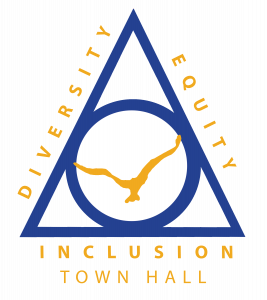 The Alameda Chamber of Commerce hosts monthly Diversity, Equity, and Inclusion (DEI) Town Hall Meetings featuring discussions on topics that are shaping the business and community as well as educating attendees on the value of diversity, equity, and inclusion.
The Chamber invites everyone in the community to participate, learn, volunteer, and become part of our ongoing conversations and discussions.
DEI Town Hall Mission:
To engage in collaborative work that creates, nurtures and sustains an inclusive community in Alameda through education, access and discussion, where differences drive innovative solutions to meet the needs of all regardless of race, ethnicity, age, or sexual orientation.
DEI Vision:
To model a culture of diversity, inclusion, equity and access in Alameda, that makes us stronger, more successful, and transforms us into the type of community that invites and is inclusive of all types of people.
Alameda DEI Town Hall Goals:
Continually do individual work to widen our lens of diversity, challenge our own views and become educated about the contributions of people of differing races, ethnicities, and orientations.
Help Alameda businesses become employers of choice by improving their cultural knowledge, understanding of access, and diversity training.
Become a resource and example for other communities looking to, or needing to, explore DEI
Work continually to support all visitors, employers, and inhabitants of Alameda to feel welcome, and to have access as a necessary part of the community
Provide a stage for important discussions that will help the community grow and thrive
Presentation/Town Hall Calendar:
The DEI Town Hall Meetings feature speakers on a variety of topics concerning education, ideologies and differences. (Until otherwise notified, these monthly conversations will occur via Zoom.)  Topics include:
May 2021: How Asian Discrimination Caused the Omission of the Asian Contribution to America with Dr. Cindy Acker
In May, we'll answer the following questions:
What is the history of Asian migration to America?
What caused the discrimination of Asians in America?
What contributions by Asian individuals created important aspects of America?
What does Asian allyship need to look like and why?
May Recognitions:
Cinco de Mayo
Older Americans Month
Asian American and Pacific Islanders Heritage Month
June 2021: The Contributions of the LGBTQIA Community to America (panel to be announced)
Questions to be addressed include:
What was the monumental situation that changed the course of LGBT rights in America?
Who are some historic LGBTQ contributors to the history of America?
How has LGBTQIA discrimination caused trauma and how has this manifested itself in the lives of LGBTQIA and other disenfranchised individuals?
If you would like to present, be involved in the planning, add your celebration of diversity and inclusion, or learn about a particular DEI topic, contact Madlen at 510-522-0414.
June Recognitions:
African American Music Appreciation Month
LGBTQIA Pride Month
National Caribbean American Month
National PTSD Awareness Month
Past Conversations
April 2021: The Black-White Wealth Gap with Dr. Jon Haverman
In this poignant conversation, we'll answer the following questions:
How big is the gap, and what are recent trends?
What are the primary sources of the Gap?
How might government policy influence the gap?
April Recognitions:
National Fair Housing Month
Scottish-American Heritage Month