5 Ways the Alameda Chamber Can Make Your Professional Life Easier
We're all so busy these days. That's part of the reason life hacks are so popular. But did you know one of the best professional life hacks is chamber membership? Here's what you can get out of it to help you do more for your business or professional life with less: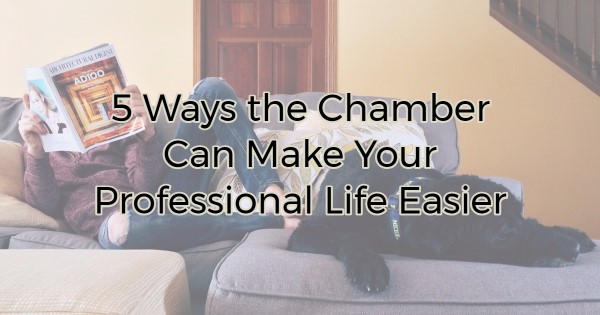 Professional Advice
When you need assistance in business, the Alameda Chamber & Economic Alliance can help. There is no other better-connected business organization in Alameda. We know the professionals dedicated to your type of business problem and can put you in touch with them. We can also provide assistance when you're not sure what kind of business acumen you need because it's likely we've seen similar issues before.   
A New Job
Because we're connected to so many businesses in town, we often know of openings before they are officially announced. We are also aware of businesses that are coming to the area. Our work in workforce development means we have job knowledge of what employers want and can make introductions. If you're searching for a job there's no better place to get involved than with the Alameda chamber. 
Applicable Business Learning
If there's a skill you're interested in picking up, you can spend hours searching online. You can find a professional or a mentor virtually, but chances are they don't know the economy of Alameda or the challenges or opportunities here. Plus, when you're using online learning you never know if it will be worth your time and money. 
We offer business learning that is personalized to the area. Some events are free, while others have a minimal cost associated. Local expertise can be invaluable to giving you a competitive edge. Learning through the chamber is affordable and improves your networking as you're doing it. Plus, all your employees are eligible as part of your membership.
Building an Audience
Who has time to build an audience? Well, if you want to be successful in business, you need to find the time. But a chamber membership can almost be a life hack in this department because you're getting exposed to a whole new audience when you connect with us. For instance, you can write a guest blog post for us or send in info about an event for the newsletter. Now you have a new audience looking at your materials and seeing you as an industry expert. The same could be said if you speak at a lunch and learn session. 
Engage with us on social media (we're on Facebook, Instagram, and LinkedIn). We have a decent following. Engaging with use places your content in front of our audience–business professionals in the Bay Area. 
Help from Your Friends 
Finally, if you're a small business owner who doesn't have many business owner friends, you may find you have few people to bounce ideas off of. You may long for a group that faces the same challenges and one that will celebrate your small professional victories, knowing that they're much larger than they sound.
Joining the Alameda Chamber exposes you to a different group of people, people who understand the importance of business in the economy and ones you can talk to about business without their eyes glazing over. Connections made through chamber membership do more than just cultivate sales for your business. They become lifelong friends and provide a staunch professional support network.  
Don't join the Alameda Chamber because it's an expectation for business success. Join it because of what we're able to do for you and your business. Membership will make your life easier as it extends your marketing reach and our offerings increase your business knowledge. 
Do it for you. Because sometimes, just sometimes, it's okay to be purely selfish in your motivations.